Monument for an Audition, a collaboration with Tim Tsang, music by Peter Hernandez (Julius Smack)
Monument to an Audition
is the first public iteration of AFTERMATH, the third play of
Effigy Live,
a quartet of performances engaging the punitive logic at the heart of American mythologies.
Monument to an Audition
hones in on two monologues in AFTERMATH by the character Bea, mother of a charismatic leader whose escapist fantasies include being a medieval knight wandering in a burning hellscape. At Automata Theater, in collaboration with artist and resident Creative Technologist Tim Tsang, we created a metahuman (a digitally rendered character) who auditions for the part of Bea on a monitor. A sculpture of Bea's fantasy knight acts as a physicalized memorial to both the character Bea and to this instance of collaboration with Tsang. Music and soundscore for Monument to an Audition composed by Peter Hernandez (aka Julius Smack).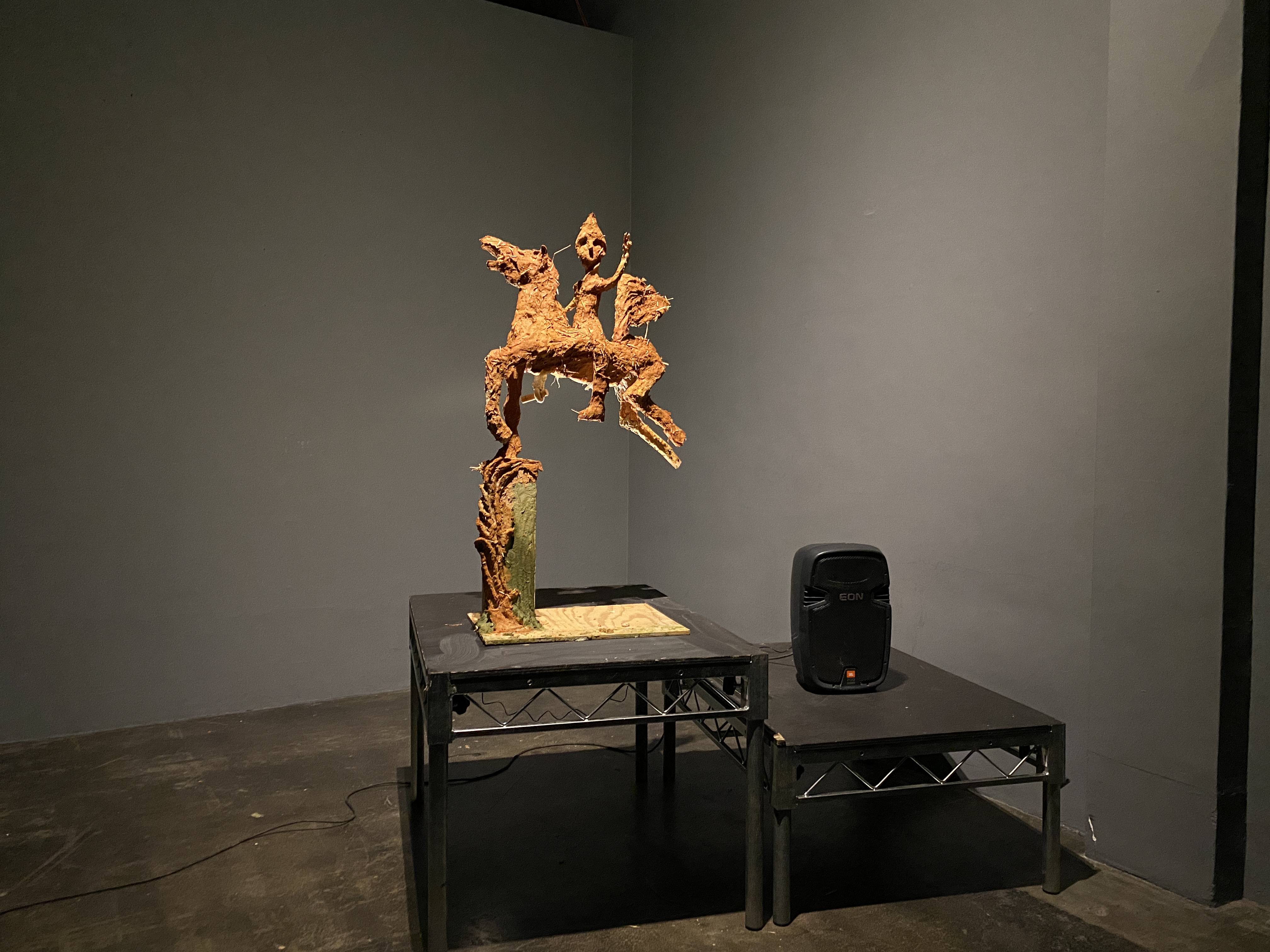 Effigy Live

Effigy Live
is a sequence of four performances that connect the social structures of monuments and crowds to the internal struggles of the family and the individual. Each performance is anchored in monumentally large sculptures representing the building blocks of fascist consciousness: punishment, transference, fantasy and the effigy. These constructs are embodied by complex sculptures made of wood, wire, fabric and found objects. Each assemblage, occupying the center of arena style performances, are inhabited by the performers and reconfigured as the narrative progresses.
Effigy 1.

Punishment's Place
, 2019
https://vimeo.com/489539670
Password: punishment2018
...This is a cold pastime. This is a calculated whim. Coldness, Calculation, suffering for profit and fun. This is before loss makes you good...
Punishment's Place
engages the greek mythological origins of punitive logic in a sculptural tableau of Prometheus Bound. An eagle, snake, a corinthian column and Prometheus himself are initially seen as broken fragments scattered throughout the space. Slowly, three performers crawl through the wreckage, pick up the pieces and assemble them into a monument. The speed of their work builds into rhythmic cycles of creating and destroying, each of them taking turns at the top of the monument. Punishment's Place, inspired by the 2017 toppling of the confederate soldier in Durham North Carolina dramatizes the act of tearing something down as a moment for renewed energy.
With Performers Kathleen Keough, Oscar Alvarez and Peter Tomka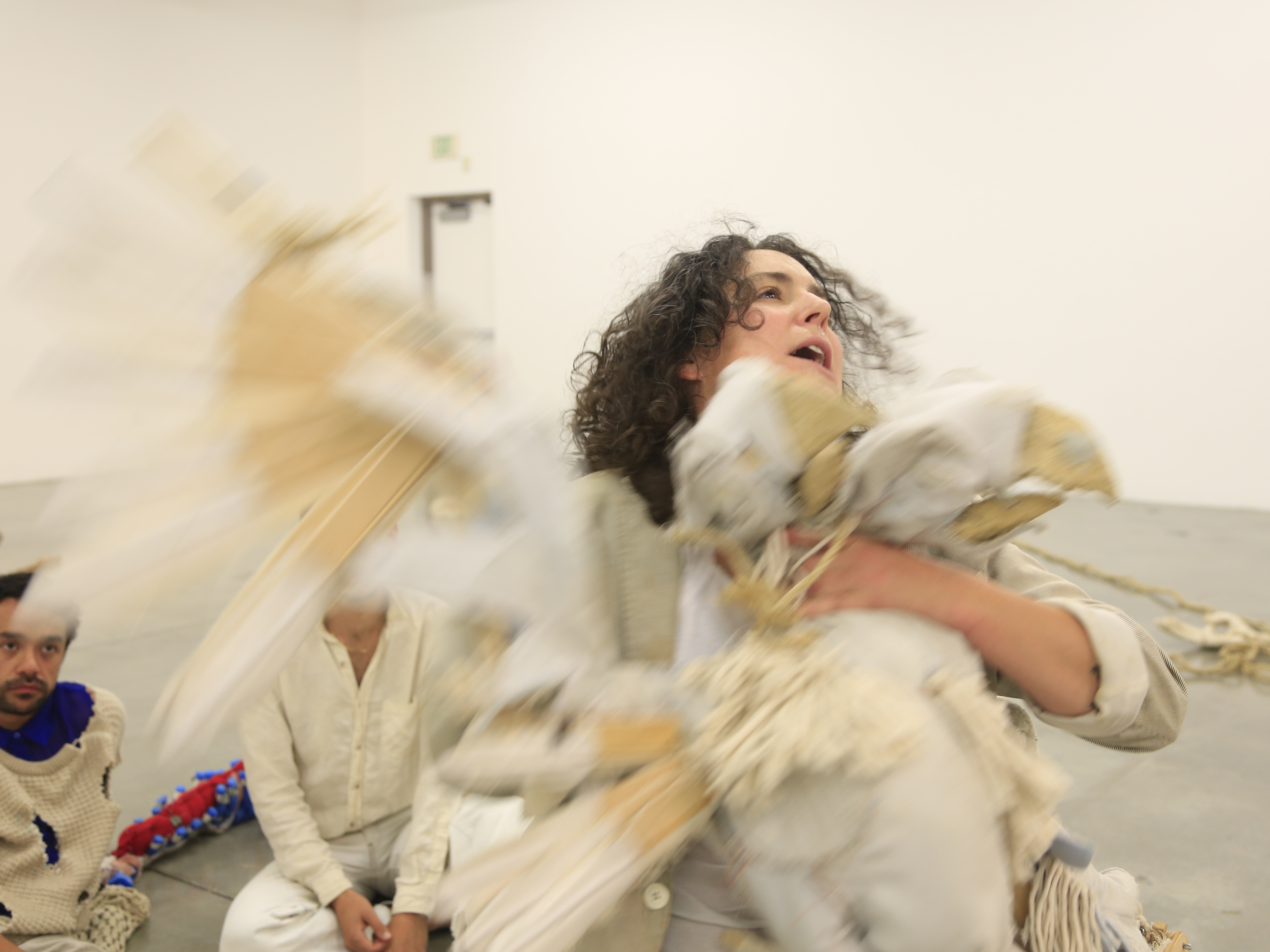 Effigy 2.

Secret Joy
, 2019
https://vimeo.com/489519748
. password: secretjoy2019
...A creature worthy of my trap...Masks of the torturers...And if they cry…Stay a torturer stay!
Secret Joy
features a monumental soldier's head perched on top of a pedestal, inspired by a Belarussian Soviet era monument to anti Nazi partisans. In the garden surrounding the monument, a colleague read the testimony of a Jewish woman who described the capture of a Nazi officer and his subsequent torture by her hands. In
Secret Joy
this scene of the torturer becoming tortured is looped throughout the performance as the performers take turns foisting the soldier's head upon each other. The spoken text of
Secret Joy
was directed to the audience as if they were the jurors of a show trial deliberating the fates of two actors.
With Performers Gregory Barnett and Dani O'Terry
Effigy 3.

AFTERMATH
and Working the Toon (an underlying physical practice), 2020
https://vimeo.com/401514578
MOTHER: I am driven towards his voice
His words fill me with a desire to jump and cry
He shouts and I shout

FATHER: His eyes are two grey stars
He looks into my eyes only
He sees only me

SON: Dad is a nipple


AFTERMATH
is a play that riffs off of the double entendre of the nuclear family. It's characters are simultaneously a mother, father, son and a proton, neutron and electron respectively. Choreographically borrowing from modern dance and theater, the performers maintain a strict geometric proximity while the texts they speak are expressions of psychological atomization. While the intended performance of AFTERMATH was effectively doomed by the pandemic, the creation process generated a video-curriculum of movement, affect and blocking that I'm continuing to develop. The above link is a combination of source material from cartoon bodies of the early 20th century and footage of how this material was applied to the creation of AFTERMATH.
With Performers Dani O'Terry, Gregory Barnett and Bully Fae Collins